Dental bridges at Lane and Associates Family Dentistry are recommended by expert dentists and crafted by skilled dental technicians. Traditionally, dental bridges are fabricated from gold or metal alloys. There are a few reasons to fabricate the dental bridges from these materials and the first reason is the longevity of the material.
Dental bridges are one of the best treatment options provided by Lane's cosmetic dentists to restore pearly smiles. Did you know that you must take care of the dental bridge just like your natural teeth? Yes, you read it right! These dental restorations can last forever if given proper care. Dental bridges are restorations that are known for offering both strength and aesthetics.
With the advancements in dentistry, the materials and technologies also improve, however, the secret for the longevity of restorations is proper maintenance. If the dental bridge is not brushed and Plaque and bacteria are accumulated there, then this can result in halitosis or dental disease to the abutments.
According to the dentists of the Lane and Associates, if oral hygiene is not maintained, the teeth under the dental bridge can suffer from tooth cavities and gum disease. Always remember that this might result in loss of the abutment teeth and the dental bridge.
How to Clean a Dental Bridge
There are the following techniques that are advised by the dentists of Lane and Associates Family, Dentistry for cleaning around and under a bridge.
Brush twice a day with a soft-bristled toothbrush and a non-abrasive paste to clean the dental crown or dental bridge properly 

Floss once daily with a water flosser and don't forget to rinse with a fluoridated mouthwash 

Use a Waterpik to clean your dental bridge and avoid the accumulation of plaque around the teeth and the bridge 

Avoid bad habits like opening packages with your teeth and biting on hairpins 

Visit your dentist at Lane and Associates Family Dentistry regularly
Can You Use Dental Floss on a Dental Bridge?
A piece of floss is used to clean the interdental spaces in teeth and a dental bridge is a joint restorative device, so floss cannot pass through between the teeth within the bridge from the top. Thus, it is evident that you cannot floss between the bridge using regular floss.
According to expert dentists at Lane and Associates, It's best to continue to clean under the bridge with a piece of super floss, a floss threader, or an interdental brush. A water pick is another best option that you can use. 
Should You Use Mouthwash With a Dental Bridge?
Lane instructs patients to rinse their mouth once a day with fluoride or antibacterial mouthwash. Using a mouthwash will help you complete the smile-cleaning job, this also helps in maintaining good oral health while keeping the bridge free from gum disease and tooth decay.
The dental bridge functions to provide strength to teeth and it is vital to take adequate care of the bridge to ensure the gum line is in an optimal state. The accumulation of bacteria or plaque can be controlled by using mouthwash.
If you are at a higher risk of cavities or gum disease while wearing the dental bridge then this is the perfect option for you.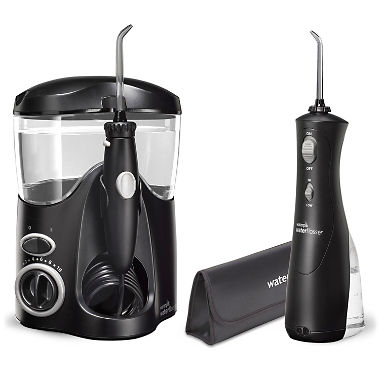 How to Clean Under a Fixed Bridge?
This is true that Dental work like bridges and crowns can be hard to keep clean. According to most dental teams like Lane dentists, a Water Flosser is designed to clean around and below all types of dental work and restorations.
Another agent that is used to clean the plaque around all types of dental work is called a plaque seeker. A plaque seeker is known as a more effective way of cleaning under a bridge than dental floss for improving gum health, the Plaque Seeker Tip is designed to use pulsating water. This cleaning aid has bristles that function to remove the stubborn plaque from the bridge surface.
Can Food Get Stuck Under a Dental Bridge?
A dental bridge is also known as a "floating" prosthetic tooth. It is connected to two dental crowns on either side. Since there's a space below the prosthetic tooth, it's easy for food to get impacted under or around a bridge.
If you want to maintain the health of the dental bridge then It's important to get regular check-ups by Lane Dentists to make sure that your dental bridge is working well. To remove the food debris from the dental bridge, it's helpful to carry interdental brushes and/or floss threaders with you, or use a Waterpik at home. If you can't get home right away, then you can also simply rinse with water several times after a meal.
Does a Waterpik Work with Dental Bridges?
Have you ever used a Waterpik? It is one of the effective ways to keep your mouth healthy! Dental work like bridges and crowns can be difficult to keep clean. Waterpik is also called a Water Flosser that is designed to clean around all types of dental work and restorations including the dental bridges.
Dental floss can clean the interproximal areas, but it cannot clean the areas under the dental bridges. For that purpose it is important to use something like a Waterpik. It helps to clean under the bridge and around crowns where microbes and food can get impacted.
At Lane and Associates Family Dentistry, our team emphasizes how important it is to properly care for the natural teeth and dental bridges alike. The maintenance routine should be incorporated into your lifestyle so that we never forget that we need to brush and floss our teeth.  The dental team at LaneDDS are here to educate patients and provide the best dental treatment for dental bridges. If you want to get an idea about how to clean under a dental bridge practically, then we can help you maintain a healthy mouth.