We wanted to take a moment to not only applaud our staff that continues to see emergency cases but also our staff who are unable to spend time with the patients they love to see and help. 
Many of our doctors and hygienists are either coming into our offices on a case-by-case basis or signing on for full days of urgent care patients. Unfortunately, others must stay home or reduce their hours due to exposure to themselves or family members & also at the orders of our government for elective dental procedures to cease. 
Here are three stories from our doctors and hygienists. We asked each how their life has changed during the COVID-19 Pandemic and these were their responses. 
Dr. Matt Miller, Sedation Dentist at Lane & Associates Family Dentistry
"I graduated from the University of Iowa College of Dentistry in 2007, completed a General Practice Residency at Naval Medical Center Portsmouth in 2008, and three years of Oral and Maxillofacial Surgery at Naval Medical Center San Diego. I was the infectious disease control officer for three years at the Naval Branch Health Clinic Kings Bay, Kings Bay Georgia.  I have knowledge and training in the etiology and ramifications of infectious diseases, in addition to having first-hand knowledge and a greater understanding during my time in Haiti after the earthquake in 2010. 
I thought I had seen a lot in my career, but the COVID-19 Pandemic was not something I was prepared to fight.  As more and more reports came in on my fellow North Carolinians contracting the virus and the death toll rising, I knew I would soon have to prepare myself and my family for what was to come. I am on Humira which is an immunosuppressive drug, which puts me at increased risk. 
When the decision came from Dr. Lane and his wife that it was no longer safe to provide treatment other than emergent many thoughts came to mind; how are my patients going to get the care they need, if I volunteer to treat emergency patients knowing that I am at higher risk would I become infected or infect my family and how am I going to provide for my family. I knew from my training that this virus was not going to resolve quickly and knew that I needed to come up with a game plan to protect myself, my family and my surgical team while using my knowledge and training to help the Lane & Associate patients with their emergent needs.  
I spoke with Dr. Lane and my personal doctor and decided to forgo the Humira and treat patients. My team and I first made sure that we were all healthy and able to treat patients. Our practice developed protocols to screen patients to ensure they were healthy to treat and that their need was emergent and weighed the risk vs. benefit.  Staff was reduced and we practiced social distancing when possible as ordered by our Governor. From a personal standpoint other than forgoing the Humira, I increased my normal personal protective equipment by using an N95 mask.
I became a dentist to help others maintain and improve their oral health and improve their quality of life, and feel it is my obligation to treat emergent patients at this current time." 
Learn more about Dr. Miller here | Find out ways we are helping during COVID-19
Dr. Huyen-Chau Dunn, Board Certified Oral & Maxillofacial Surgeon in Raleigh and Durham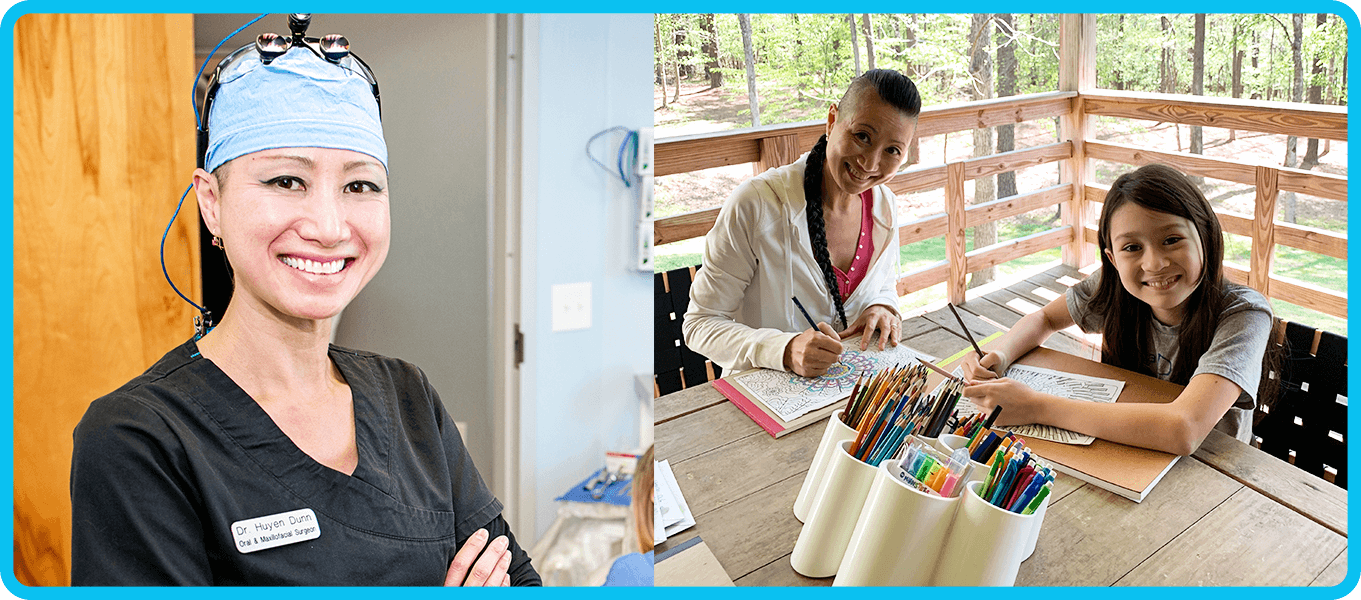 "I am a board-certified Oral and Maxillofacial Surgeon who attended dental school at New York University and then accomplished my oral surgery residency within the Air Force.  I have trained for protection against chemical warfare in protective (MOPP 4) gear for hours at end, I have flown in an F-16, I have accomplished long surgeries to debride and reconstruct soldiers wounded in war or patients with pathology, I have extracted more teeth than I can count and even replaced some of them with dental implants, but the challenge I face now is staying at home.  
Because of the ongoing pandemic, I have limited my practice to only treating emergent/urgent cases to help alleviate our already overtaxed emergency departments nationwide.  As such, I have been doing postoperative follow-ups and evaluations of potential emergency cases via video conferences with patients. Granted, teledentistry is limited in that I cannot touch the patient for a thorough examination, but it lets me determine if I need to bring the patient into the office for potential treatment versus conservative medical management.  
On a personal level, I have great respect for stay-at-home moms/dads, which is essentially what I have become.  The challenge is creating a routine for my 10-year-old daughter, Mai, and some form of normalcy while my husband, who is an emergency medicine physician working tirelessly on the "frontlines" of this pandemic to care for the sick and dying.  We do online schoolwork and music lessons with her piano teacher. Things that I normally did alone in the past for the sake of time efficiency, I now accomplish with her; we prepare meals and bake treats to distribute to neighbors, laundry, cleaning, gardening/mowing, but we also do fun things like art, board games, watch movies, take walks, and play with our dogs.  Whatever we do, we take time to enjoy each other's company." 
Find out more about Dr. Dunn here | Visit our COVID-19 Updates page
Crystal Jackson, Hygienist from Lane & Associates Fuquay-Varina

"To my wonderful patients,
I hope you all are staying safe, healthy, and finding lots to do at home. I miss you all so much. I was really looking forward to seeing some of you in March and April. This pandemic has changed so much for so many of us and I pray it is over sooner than expected. Until we can see each other again, remember to practice excellent home care as we often talk about. 
Some Tips during COVID-19:
Brush 2x a day for 2 minutes.

Floss daily and continue to use a fluoride mouth rinse daily! 

Change your toothbrush every 3-4 months. If you get sick, change your toothbrush immediately! 

Try to keep hydrated with only water throughout the day to keep your sugar intake down and your teeth happy.
My family and I are doing well, thankfully we are all healthy and trying to do our part by staying home. Except for visiting the grocery store, we have been home! Lots of cooking, cleaning, and playing outside has taken place. I really miss going out to eat, cookouts with friends, watching my boys play baseball, and their school! Today we started virtual school with my fourth and second grader and it went pretty well, so thankful for amazing teachers. Every afternoon I have a video chat with my 4 best friends and that has been so nice as we are helping each other get through this. I encourage you to have a video chat with a friend or two. 🙂
I cannot wait to see my patients again soon and find out how you all are doing during this challenging time. I think about you often! We will get through this. I am dreaming about the day I can go back to work to treat my patients and the boys' school opens back up. Although, I am sure I miss their school more than they do. Haha
I love you all. Looking forward to seeing you soon. Stay safe!
Sending many prayers!
Your Dental Hygienist"
Learn more about Lane & Associates during COVID-19 | Contact our offices